As you may or may not know we have rented an apartment at the Belgian coast this summer. A nice apartment at a nice location but with a tiny kitchen and an even tinier fridge.
When we went to the market on Saturday we bought a lot of goodies, fresh fruits, vegetables, waffles and I kind of forgot all about the tiny fridge…..We needed to make room for all the new stuff  so I came up with this great salad. A delicious mixture of buckwheat noodles, roasted sweet potato, roasted carrot  little gem, cucumber and some fresh herbs. For me this would have been enough but since the kids and Mr Husband were quite hungry I have added some baked grounded veal. A nice sauce on top of this and bam….great salad that everybody loved!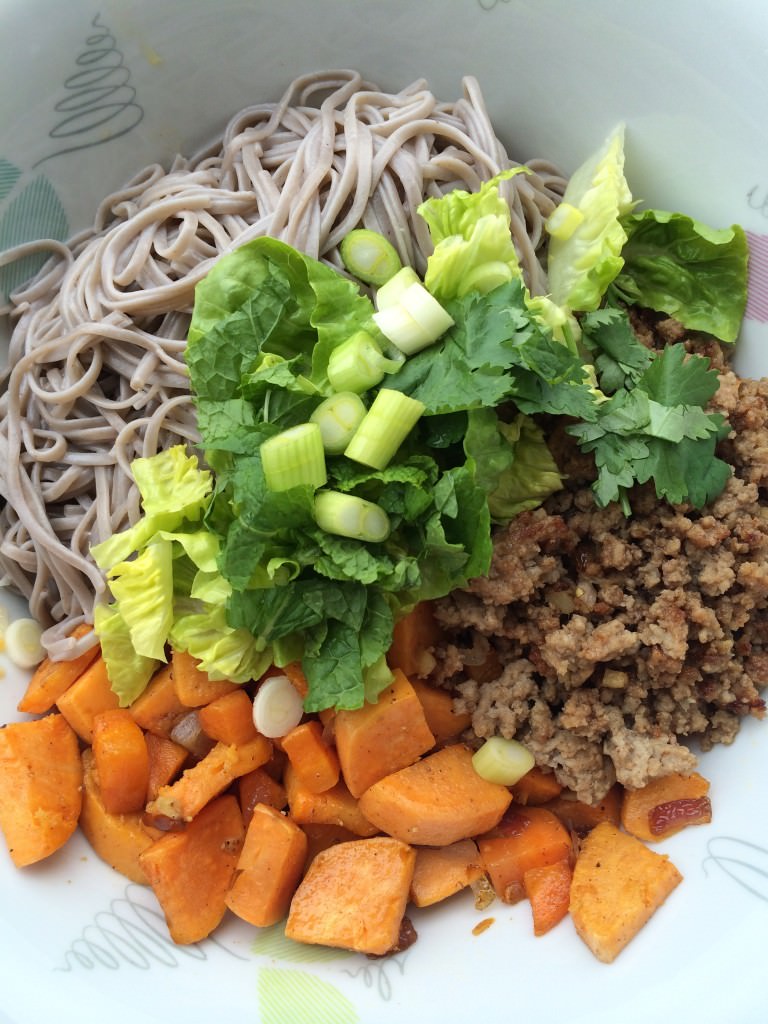 Sweet potato, carrot and buckwheat noodle salad with grounded veal
Ingredienten
For the salad:
2 sweet potatoes diced in cubes of 1,5 cm
1 carrot diced in cubes of 1,5 cm
2 shallots, chopped
3 cloves of garlic, finely chopped
1 piece of approximately 1 cm grated ginger
2 tsp 5 spices
200 gr grounded veal
2 tbsp soy sauce
5 scallions finely chopped
3 crops little gem in small pieces
1 hand full of fresh coriander and mint
½ cucumber diced in small cubes
100 gr cooked buckwheat noodles
Olive oil
Pepper and salt
For the sauce:
1 tbsp tahin
1 tbsp soy sauce
1 tbsp water
Juice of ½ lime (approx. 2 tbsp)
1 tbsp olive oil
Werkwijze
Heat the olive oil and bake half of the garlic, shallots and ginger.
Add the sweet potato and carrots after approximately one minute. Season with the 5 spices (1/2 tsp) and bake until softened.
Bake the grounded veal in another pan with the rest of the garlic, shallots and ginger and 5 spices. When baked add the soy sauce and wait until all the liquids are gone.
Tip: You need to season with the soy sauce to your liking so start with 1 tbsp and then add to your taste.
Mix the noodles, vegetables and baked meat in a big bowl and top it off with cucumber, little gem, mint and coriander.
Mix all the ingredients for the sauce.
I serve the sauce separately because this isn't quite to the liking of the kids. They eat the salad as it is.