Who doesn't love some sweet or candy from time to time?
But what about a healthier alternative for late night snacking than  some cookies or candy?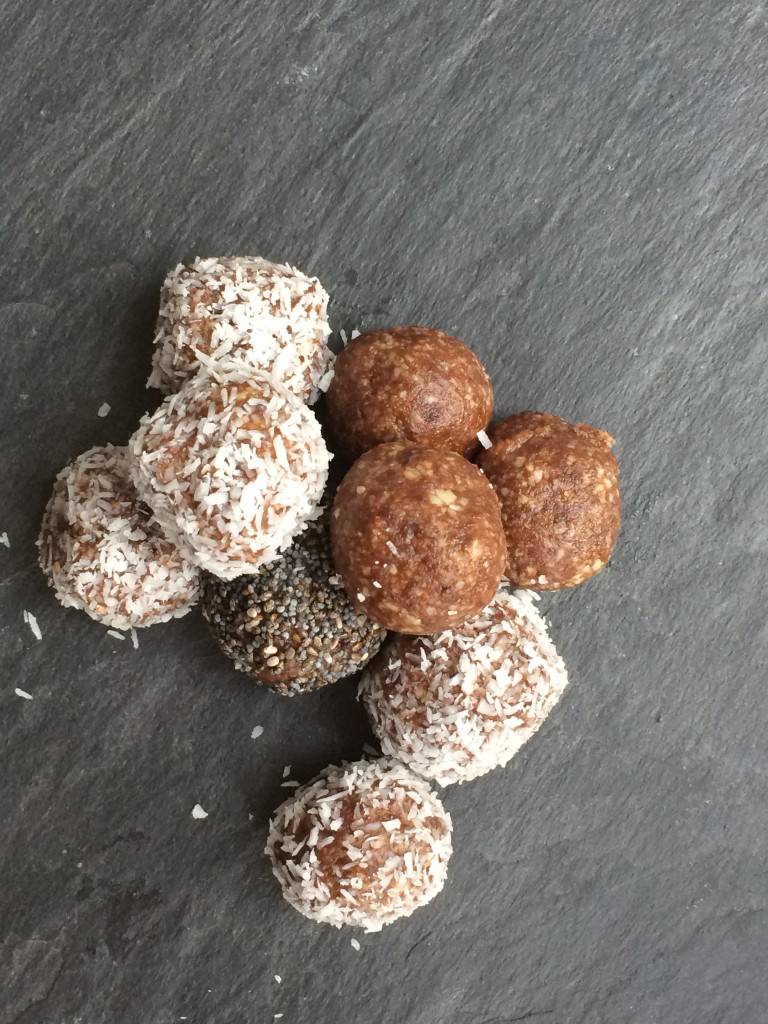 Candy
As you already know I am not a big fan of dried fruit. But since I have discovered that dates actually taste fine when mixed in with other ingredients I haven been experimenting a bit to prepare candy bars, candy balls, granola bars and other desserts. Dates are often used in the 'healthy' kitchen as a natural sweetener in stead of sugar. Don't be fooled however, using dates might be a bit better than regular sugar as a sweetener but you still get a lot of fructose in your body.  FYI The more dried a date is, the more sugar content it has.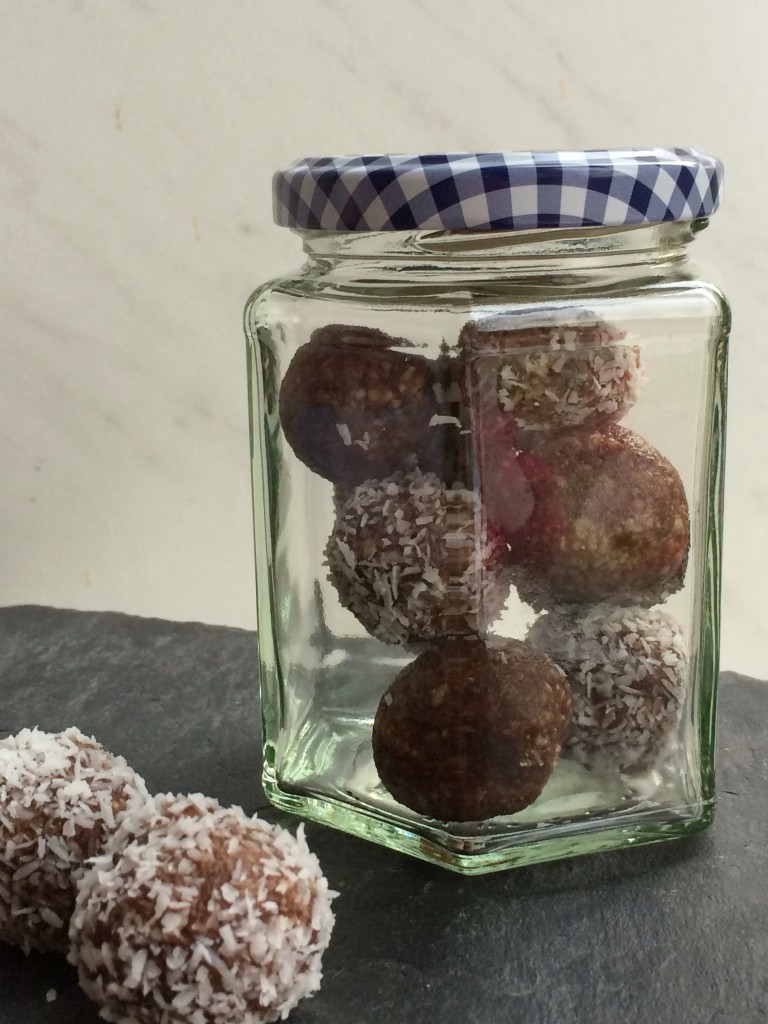 Nutty Balls
I have prepared these little candy balls last week for one of the Christmas parties. I loved the fact that my nearly 3 year old nephew who really has a sweet tooth liked these candy balls. You can prepare numerous variations depending on which type of nuts you use. Or you can prepare them with a mixture of nuts.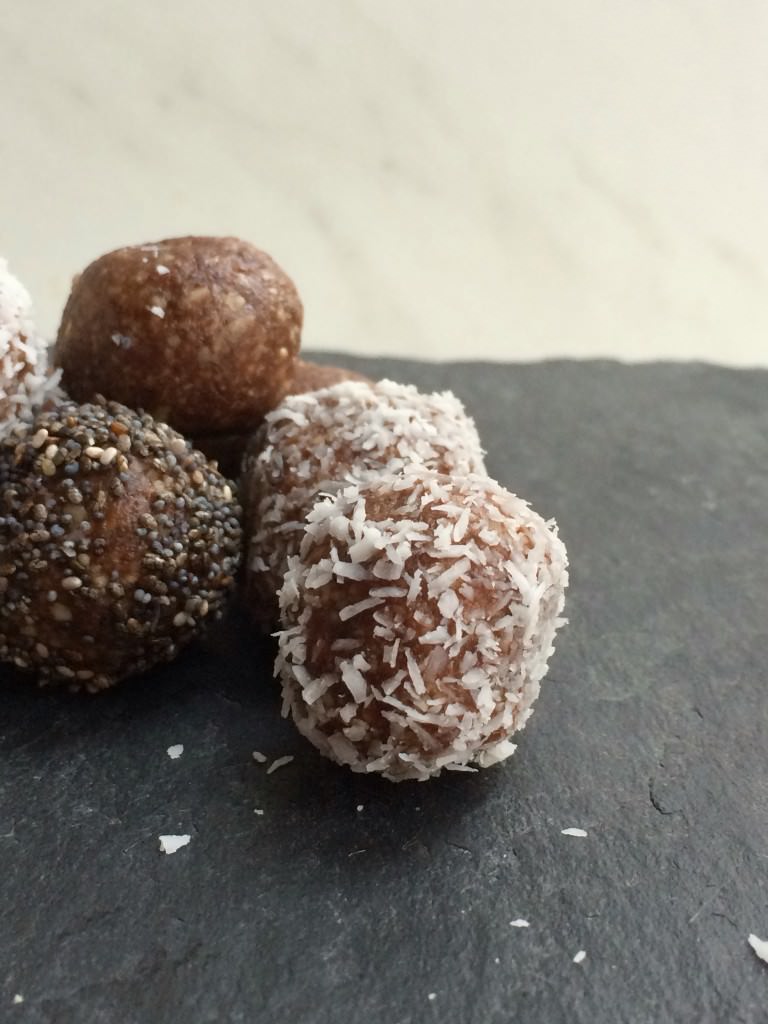 This is so easy to prepare and fun to do with your kids because they can roll the balls (the sticky part) for you and it is fun to roll the balls through shredded coconut, chia seeds, raw cacao nibs, sesame seeds….
I have kept a couple of them in the freezer for late night snacking, great with a cup of tea.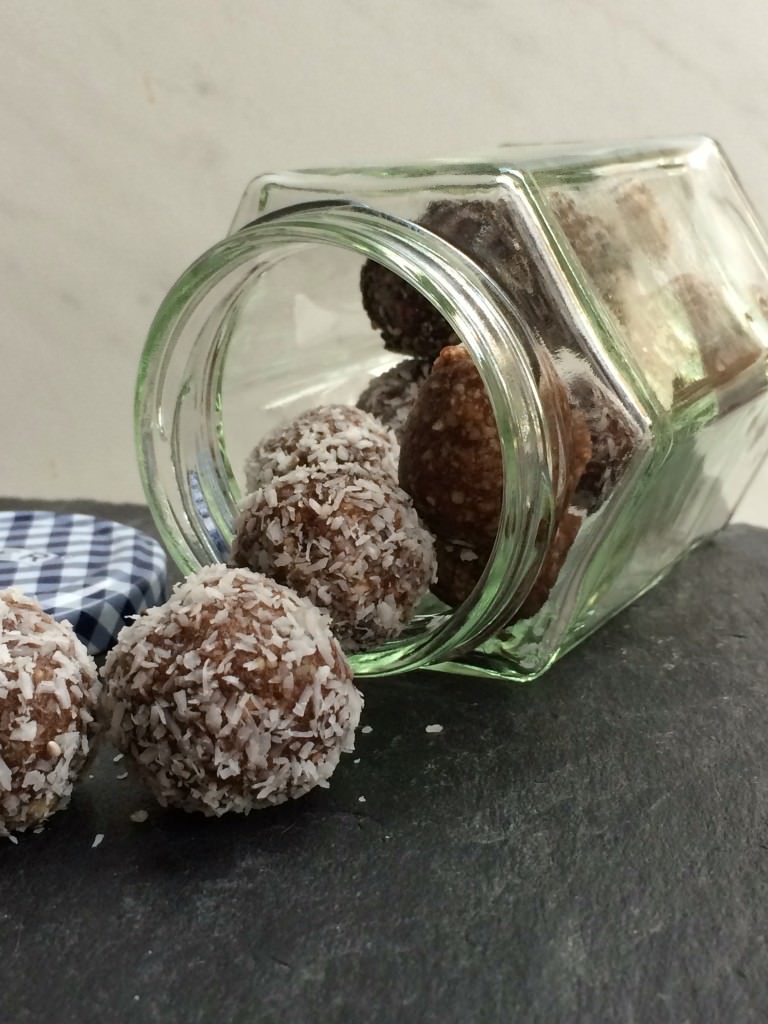 Nutty Candy Balls
Make sure you serve these candy balls chilled. I keep them in the fridge and get them out just before serving.
Ingredienten
100 gr cashews and almonds
80 gr pitted dates
1 tbsp maple syrup
1 tbsp virgin coconut oil
1 tbsp rolled oats
1 tsp vanilla extract
1 tbsp cacao powder
shredded coconut, sesame seeds, chia seeds to your liking for decoration
Werkwijze
Grind the nuts and oats in a food processor until you have a coarse kind of nut flour.
Add the dates, coconut oil, maple syrup, vanilla extract and cacao powder and mix all ingredients together.
You can do this in a blender, but I think it is too sticky. I loose a lot of the paste when I use a blender.
Knead for a minute and then chill the mixture for 10 minutes in the fridge.
Take the mixture out of the fridge and roll little candy balls. I use a teaspoon of mixture per ball.
I you like you can roll the balls through shredded coconut, sesame seeds, chia seeds or cacao nibs.
Store the balls in the fridge or freezer.
Enjoy!
Nutrition Information
Serving size:
24 candy balls