The house is ready for Christmas,
the gifts are wrapped,
the ugly sweaters ready to be worn
now I just need to figure out the menu….
Last year I have prepared a Christmas turkey for the very first time, and I mean the real deal not a pre stuffed Turkey, but home made filling. …what an experience, something I'll try again this Christmas.
I have stuffed it my self and after some research online decided on a classical stuffing with grounded meat, truffles, mushrooms and nuts. I was having trouble deciding whether to prepare  a typical American stuffing with cornbread, celery, pine nuts and sausages or the classic one we all know over here in brave little Belgium.  Since it was the first time I opted for the 'mainstream' filling.
The most important thing if you prepare a whole turkey is that you drizzle if often. You really need to pour all the juices over your turkey every 20 minutes to get a nice and moist result. For more information on how to prepare a turkey check out this great site .
The part I found the most difficult was – after I filled the turkey-  binding everything together and recreating the turkey. As you can see on the (terrible – I know and I am sorry for the lame quality but with all the Christmas dinner stress last year – I forgot to prepare for some nice pictures – this year I'll try to do better!) See below for the recipe of the stuffing.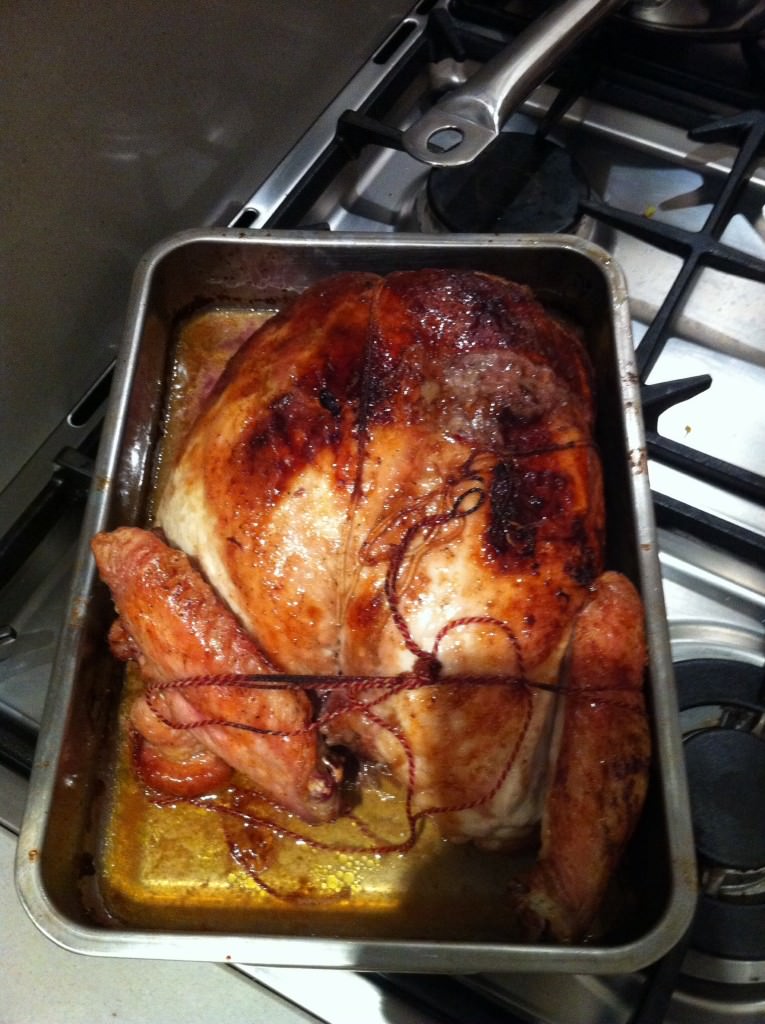 What else will you find on our menu this year?
Appetizers:
Main:
Stuffed Turkey – see recipe below
Roasted vegetables with star anise and cinnamon
Gratin dauphinois with cauliflower and dairy free cream
Dessert:
Turkey Stuffing
Ingredienten
1 kg grounded veal
500 gr foie gras in small cubes
200 gr porcini mushrooms - soaked in water
200 gr wild mushrooms - cleaned and cut into pieces
100 gr pistachio's
pepper and salt
a portion of black truffle carpaccio with juice
some dried thyme and rosemary
1 egg
1 tbsp cognac (optional)
a pinch of nutmeg
Werkwijze
Put all the ingredients into a big bowl and mix it together with your hands until all is well combined.
You will need a nice and smooth mixture.
Prepare your Turkey as described in the link and fill it with this mixture.
Now you will need time and patience and afterwards enjoy with the whole family!
We loved the leftovers the day after, nom nom!
I served the turkey with roasted vegetables and mashed potatoes and a home made cranberry sauce...delicious!